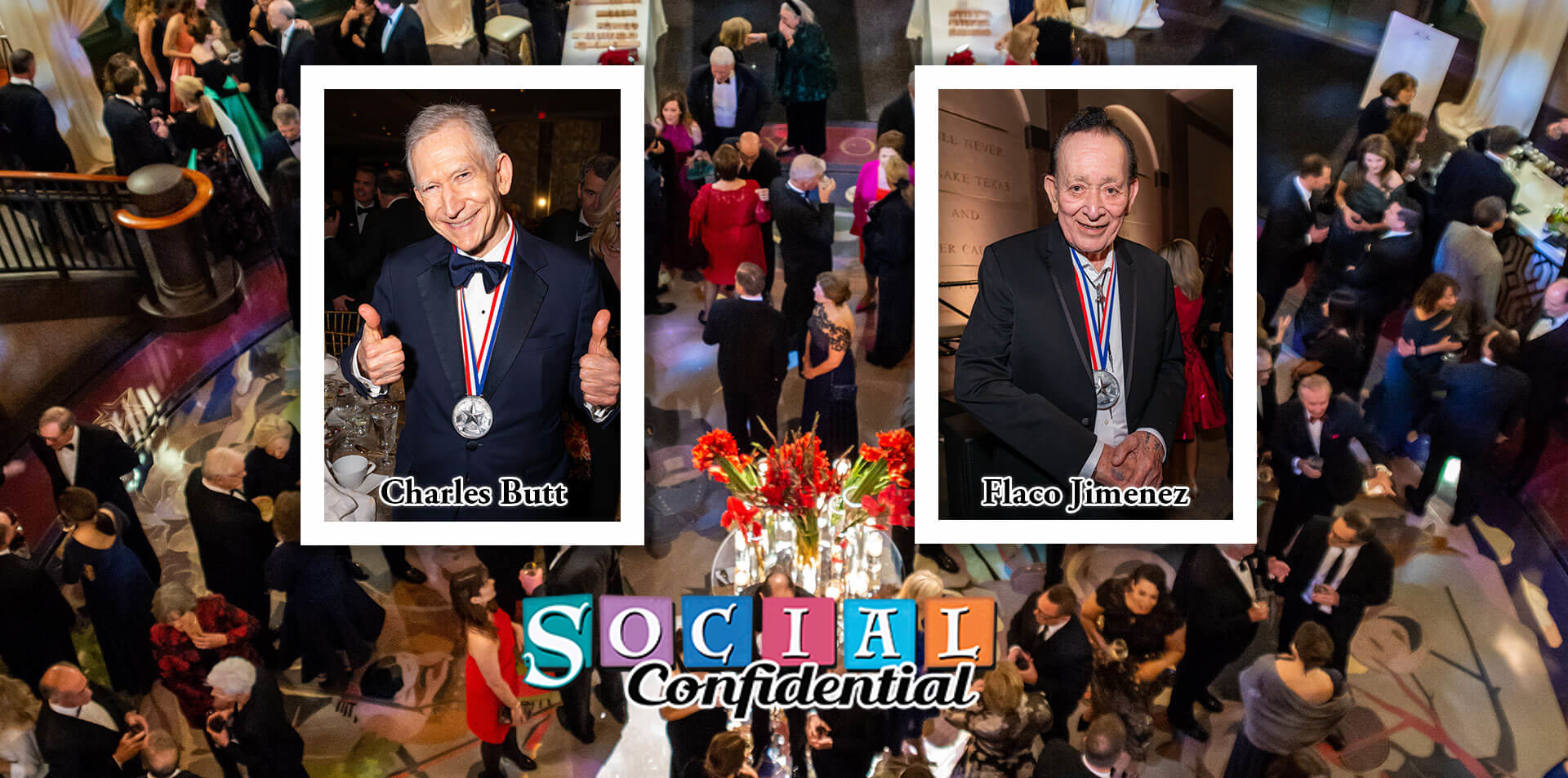 Charles Butt and Leonardo "Flaco" Jiménez honored with History-Making Texan Award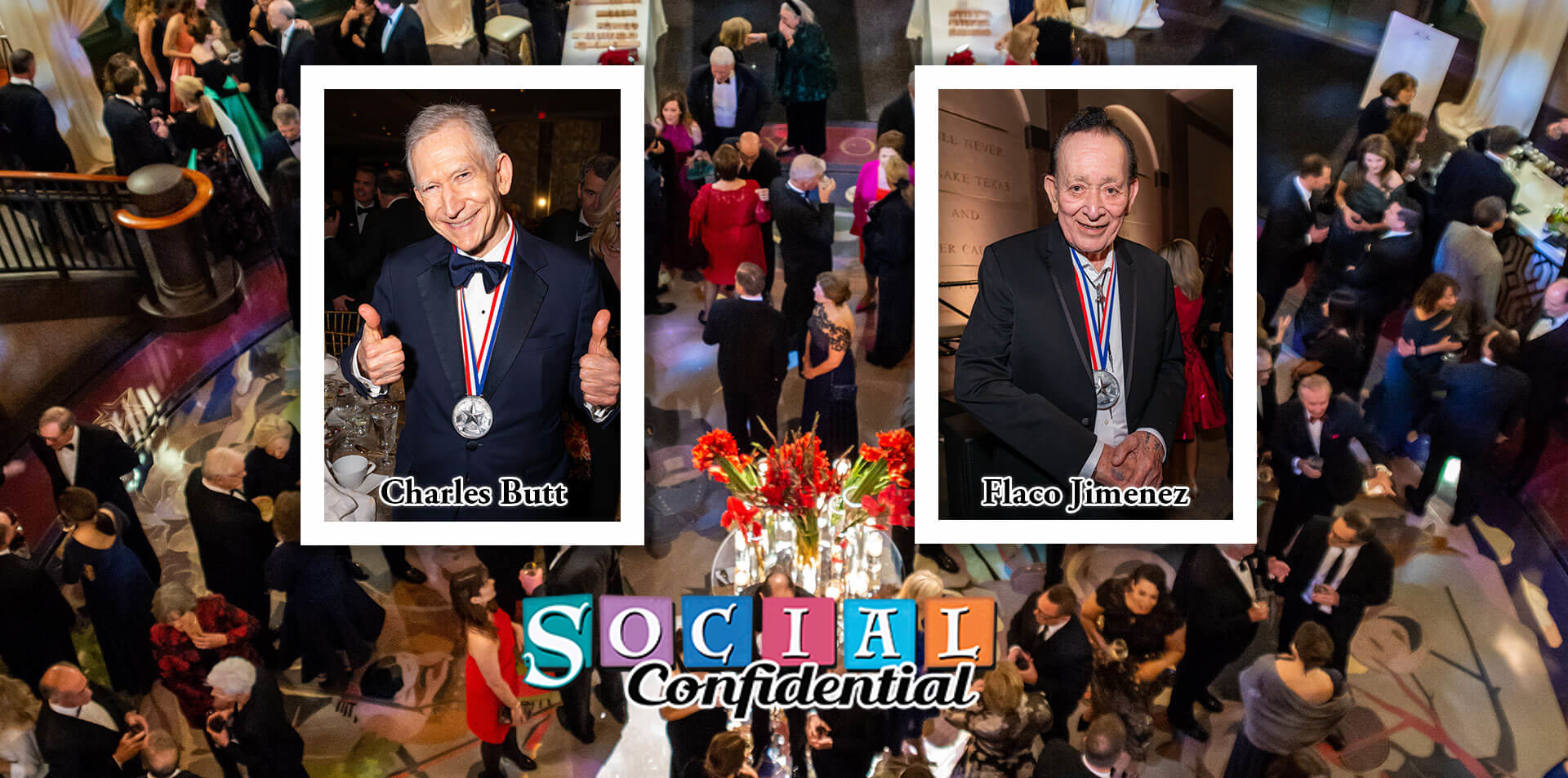 Social Confidential
AUSTIN, TX — The Texas State History Museum Foundation honored two outstanding Texans – philanthropist and business leader Charles Butt and legendary musician Leonardo "Flaco" Jiménez – with the History-Making Texan Award at the Foundation's fifteenth annual Texas Independence Day Dinner held on February 28, 2019 at the Bullock Texas State History Museum in Austin. The award recognizes living Texas legends whose contributions to the state and the nation have been truly historic and exceptional in scope.
Read more...
The Texas Independence Day Dinner celebrates the state's rich cultural heritage and generates support for the Bullock Museum, the nation's premier institution on Texas history. More than 500 business, political and community leaders attended the event. Carla Moran of Lubbock served as Chair and Jan Felts Bullock of Austin served as Honorary Chair of the event. The evening raised more than $1 million in support of the many educational programs and special projects of the Bullock Museum.
"Charles Butt has transformed the grocery industry through his leadership of H-E-B. He is an innovative and brilliant business pioneer and also a national voice in public education and administration. Every Texan owes him a debt of gratitude for his tireless advocacy and for being an impactful and generous community partner. His philanthropy in education, hunger relief, military support, health and wellness, social services, the environment, diversity and the arts has transformed Texas," said Carla Moran, event Chair.
Moran continued, "Flaco Jiménez's illustrious career spans seven decades on the accordion. Recognized for his accomplishments in Tejano and Conjunto music with six Grammys, a Latin Billboard Lifetime Achievement Award, and a National Heritage Fellowship from the National Endowment of the Arts, it is only fitting that he add History-Making Texan to his deserved accolades. He has collaborated with musicians such as Bob Dylan, The Rolling Stones, Dwight Yoakum, Buck Owens, and Freddy Fender."
Mr. Butt commented, "My Texas roots run deep, and I have an abiding love for this state, its history, and its people. My life story has been uniquely shaped by Texas. It has been my honor to give back to Texas by working to provide a more hopeful future for our children through the strengthening of our public education system. I am grateful to the Bullock Texas State History Museum for recognizing my dedication to education, and I congratulate my fellow honoree Flaco Jiménez on his extraordinary career."
Previous recipients include, among others: Secretary James A. Baker III; Governor Dolph Briscoe; President and Mrs. George H.W. Bush; President George W. and Mrs. Laura Bush; Earl Campbell; Governor and Mrs. William P. Clements Jr.; Van Cliburn; Barbara Smith Conrad; Denton Cooley, M.D.; Walter Cronkite; Lieutenant Governor Bill Hobby; Senator Kay Bailey Hutchison; Mrs. Lyndon B. Johnson; Herb Kelleher; The King Ranch; Eugene F. Kranz; George P. Mitchell; Ross Perot; Darrell K Royal; Nolan Ryan; and Lee Trevino.Since 2001, nearly 9 million visitors, including more than 1.6 million school children, have explored Texas history through award-winning exhibitions, interactive media experiences, and innovative educational programming. Since 1999, the Foundation, a 501(c)(3) nonprofit organization, has raised approximately $30 million to support educational programs at the Museum. For more information about the Bullock Museum, visit www.TheStoryofTexas.com.
Read less